A Gem Within The Sands Of Myrtle Beach
Published 8/7/2017 - Carolina Pines Realty
Some time ago, I was looking for an afternoon of culture on the Grand Strand. What I discovered is truly a gem buried in the sands of Myrtle Beach.
The Franklin G. Burroughs-Simon B. Chapin Art Museum in Myrtle Beach has been open since 1997 (who knew?!?!) and change out the exhibits every 6 months or so. The most recent exhibition I got to see was "Feast Your Eyes: Celebrating the Food of the South". What a fun exhibition!!! The subject of the exhibit is popular food in the south. Art build around iconic southern foods like Kentucky Fried Chicken, Moonpies and Coke is just a few of the food subjects featured. One of my favorite pieces was a 3 minute video on Grits, a true southern breakfast food. Filmed in the seventies, this short documentary explored the south's obsession of grits by asking questions like "Is 'grits' singular or plural?", "How often do you eat grits?", and "What do grits taste like?". I especially enjoyed the different mediums displayed within the exhibit. Some of the mediums wool, yarn and wool fabric; waxed linen and embroidery floss; hand-cast bronze and hand jeweled; oil on board; brass, copper & sterling silver; just name a few.
The museum is unique because it's the only one of its kind (that I know of). I have scoured Horry County for art museums and so far, I've found this one. I'm interested in finding more. But for now, I'll be supporting this one by going as often as I can. I've included a few pictures with credit to the artist and a description of the medium used. I hope you enjoy and visit them to see for yourself what talent is hidden under the sands of Myrtle Beach.
Photo Credit: Vickie Carter
Art Credit: Martina Celerin
Southern Fruit Salad
2017 wool, yarn and wool fabric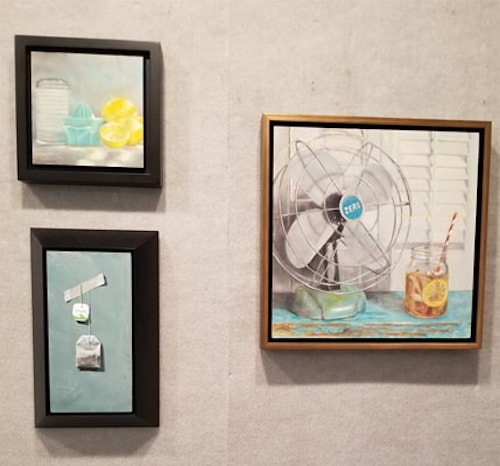 Photo Credit: Vickie Carter
Art Credit: Shannon Runquist
It's Summertime
2017 oil on board
Having moved to SC from CA in 2005 I have found this was the best decision I could have ever made. I love the areas of the Grand Strand and Pee Dee and find new places to explore every day. I was a CF....